All the parts of the Light Bulb Scaffold™ store in 2 rolling racks. The racks can be rolled through a standard 3′-0″ doorway.
They roll right to where you're building the tower.
The following pictures show assembly in the balcony of a local church. To see it used in a church with a more typical sloped floor, go here.
For a detailed look at how the system rolls along the rows in a balcony, go here.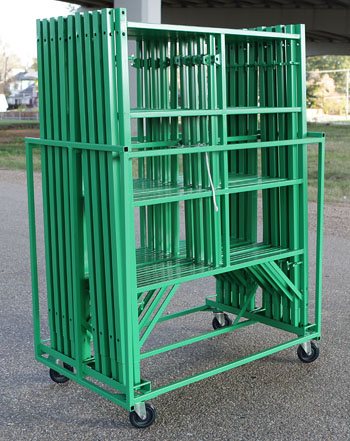 First, the legs are inserted in the ends of the Main Beams. The legs are adjustable in half-inch increments so it's easy to set the base structure level without the use of screw jacks.
The Main Beams are spaced 6, 6.5, or 7 feet apart, depending on the spacing of your seats.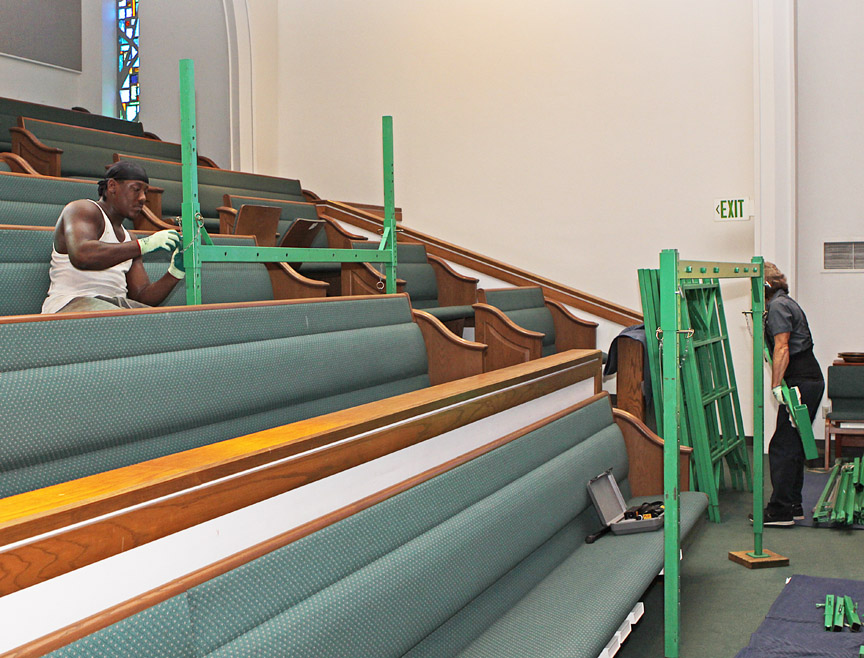 Next, the Frame Beams are laid on the Base Beams. The beams only weigh 30 pounds each. They lock together with a t-handle bolt.
The entire base structure is assembled quickly, with NO TOOLS. It takes an experienced crew about 8 minutes.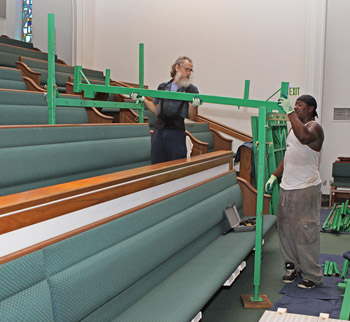 After the base is finished, you stack frames as high as needed. They are very easy to handle, weighing only 35 pounds each. Each frame is 4 feet wide and 5 feet high.
The frames go together on 5-foot centers. This is 2 feet closer than normal scaffold frame spacing, and it greatly increases worker comfort and safety. A man can grab both frames at once for continuous 3-point contact when moving around on the platform and climbing.
5-foot spacing is a lot more compact and easier to use inside buildings, too.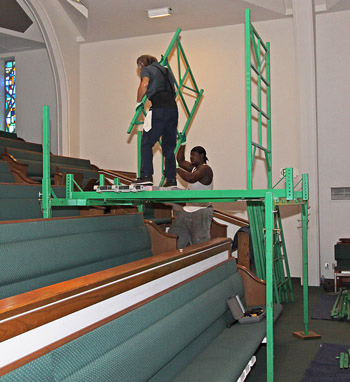 As frames are installed, you add these 20-inch-wide custom aluminum walkboards. They hook onto the frames for maximum stability, and also come with hold-down clips for wind resistance in outdoor applications.
They are very easy to handle at only 22 pounds apiece.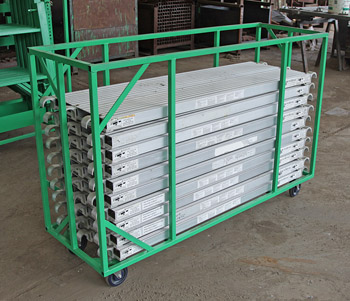 As the tower grows higher, you will use the gin pole to hoist frames and walkboards up into place.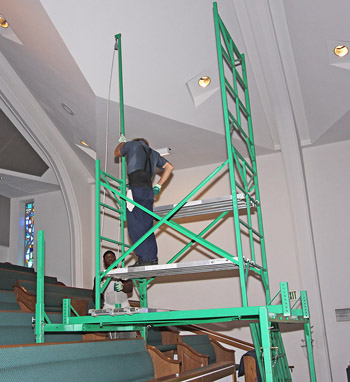 All the weight is held by the man on the ground. He pulls the rope to raise the frames up to the man on the tower who just guides the frames into place. He doesn't have to hold the weight of the frame.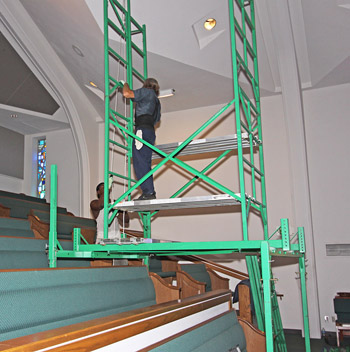 Each kit is supplied with 2 half-high frames so you can always put the workers head at ceiling height.
All guardrails are included with the basic kit.
An experienced crew built this tower in about 20 minutes. It will take about the same amount of time to take it down and load it in the rack for storage.
To see the Light Bulb Scaffold™ System used in a church with a more typical sloped floor, go here.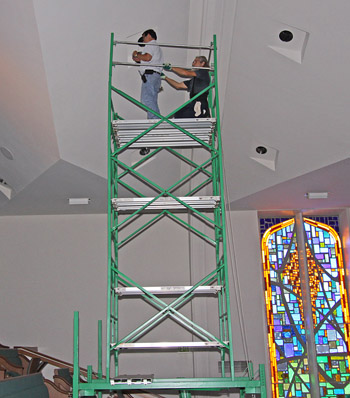 Download the Assembly and Use Manual here.
Check out pricing by clicking here.
Download a 2-pg informational flyer by clicking here.
BUY NOW! Call 800-845-0845