Finally, a light-weight, yet super-strong, maintenance scaffold system in heights up to 150 ft for:
Hospitals
Warehouses
Factories
Stadiums
Gallerias
Commercial buildings
Malls
Hotels
Grocery stores
Office Center Atriums
HVAC Contractors
Electrical Contractors
Outdoor lighting maintenance in parking lots
Sports field lighting and scoreboard repair
Video surveillance installation
Microphone, speaker, and A/V equipment installation
See Full List
More Than a Light Bulb Changing System
Anywhere a lightbulb needs to be changed, a fixture needs to be replaced, a camera needs to be installed, a cable needs to be ran, or any other repair that requires working up high with light weigh materials, indoors or outdoors, you have found the right solution to fit your needs with Lightbulb Scaffold™.
Up to now, if a facility manager wanted a scaffold system, the only choice was standard construction scaffolding. Now there's a scaffold system designed exclusively for maintenance work in schools, universities, churches, office buildings, theaters – just about every commercial building. The Light Bulb Scaffolding™ (LBS) system eliminates all the headaches involved with standard scaffolding:
1. The LBS (Light Bulb Scaffold) is light, but strong. The frames weigh only 35 pounds. Some conventional scaffold frames weigh as much as 60 pounds! We use special high-tensile square tubing in the LBS frames. That gives you all the strength of standard scaffolding without all the bulk, yet they can still be stacked to make a tower up to 150 feet high.
2. The LBS system is compact. The frames are only 4 feet wide and 5 feet high. They brace together 5 feet apart instead of 7 feet. That means LBS is easily set up in tight places for repair work, painting, decorating, and other projects.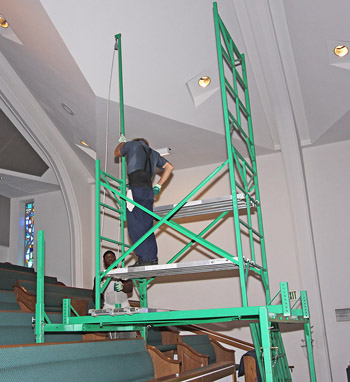 3. The LBS system is easy to erect. Since no part weighs more than 35 pounds, all the components are very easy to handle. Even so, many maintenance men are uncomfortable having to lift the components into place to build the scaffold. Problem solved. LBS uses a gin pole with a rope and pulley to support components as they are put in place. All the lifting is done by the man on the ground, not the man on the tower. The tower is disassembled the same way.
Using the gin pole is faster, too. An experienced crew can build a 30-foot tower in about 25 minutes.
4. The LBS system is easy to move and store. Construction companies are used to handling dozens of loose scaffold parts, but schools and office buildings are not. All the LBS parts store neatly away in 2 rolling racks. They save hours and hours of handling. The racks roll right to the work area, then back to storage in literally 5 minutes.
---
Rolling Scaffolding for Uneven Floors
Quickly build a safe work platform over any uneven ground.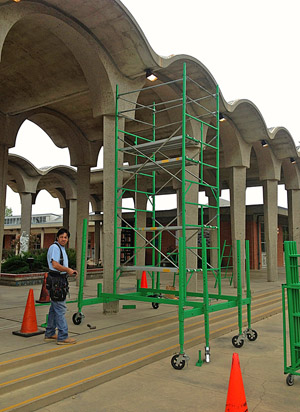 Scaffolding for Outdoor Lighting
Use the Light Bulb Scaffold™ System to service ourdoor lighting at any height (up to 150 feet).
This picture shows it on flat ground, but the Spanner Kit adapts to any slope or ground conditions.
Versatile Rolling Scaffolding
Use it as a rolling tower inside or outside.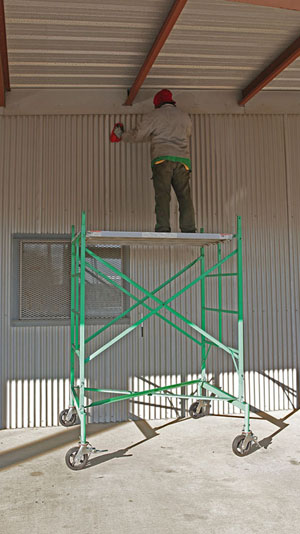 Download a 2-pg informational flyer by clicking here.
BUY NOW! Call 1-800-845-0845