They say "Necessity is the Mother of Invention"
Light Bulb Scaffolding™ was invented to solve a common problem, changing lightbulbs in high ceilings over stepped floors. The owner of Non-Stop Scaffolding, Justin Breithaupt, Jr., was asked by the pastor of his church if he could loan the church some scaffolding to change out some burned-out light bulbs above the pews in the balcony. At first look, it was a nightmare due to steps and sloping floors. The pews were set on 3-foot centers and each pew was stepped down 15 inches lower than the one behind it. Nothing about the job matched standard scaffold spacing. We told the pastor that Non-Stop's masonry scaffolding wasn't right for the job, but that we would try to find something that would work for them.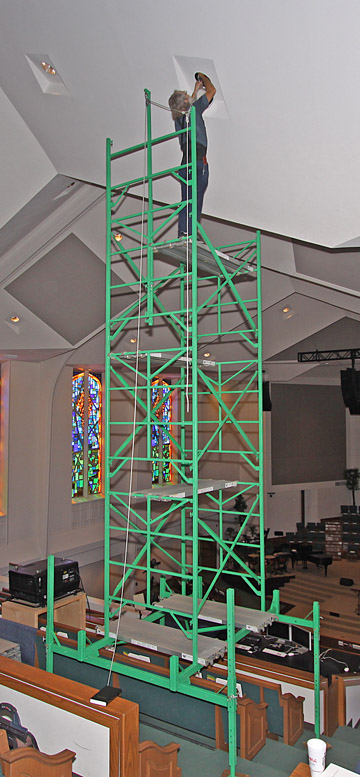 The Finest Multi-level Scaffolding
Justin started looking for an existing lightbulb scaffold system that church workers could use to change their lightbulbs, and found out there wasn't one! It then became apparent that a lot of other churches, schools, auditoriums, theaters, etc. must be facing the same problem, so Justin set out to engineer an easy way to build a scaffold over any seat, bench, or obstacle that might be in the way, even if the floor is stepped or sloped or has rows of seats.
After several prototypes and a lot of feedback from users, the final design gave everyone what they wanted:
• A simple and safe scaffold system that even "weekend warriors" can quickly assemble without tools in no time.
• A safe system that maintenance personnel feel comfortable using.
• A stable base unit that readily adjusts around floor obstructions and differences in floor elevation.
• A sturdy tower that will reach 36-foot ceilings without guying.
• A rolling storage rack that holds all the components, will fit through a standard doorway, and stores easily in the corner of a storage room and fits in the back of a pickup truck or trailer.
Scaffolding for Uneven Floors
Since 2010, lots of churches have bought their own Light Bulb Scaffold™ system. They all love it. They use it for everything from cleaning those high stained-glass windows to hanging Christmas decorations. The Light Bulb Scaffold™ System has also been bought by facilities in 11 foreign countries. Electrical contractors and theater service companies also use it on a daily basis.
Stadium Scaffolding
Our most notable customer, Madison Square Garden, was faced with the problem of having to change LED scoreboard panels above the stadium seats between games. Scaffold contractors were too slow and expensive. Electric lifts won't go there, and ladders are too dangerous. The Light Bulb Scaffold™ System lets them get in and out, safely, in about an hour and a half.
The photo on the right, and many of the pictures on this site, were taken at Justin's church. It solved their access problems in the balcony. So did Justin's church buy a Light Bulb Scaffold™ System? Of course not! Because they know where they can always borrow one!
Built by Scaffolding Experts
The Light Bulb Scaffold™ System is brought to you by the fine people who make Non-Stop Scaffolding, the safest and most efficient scaffolding ever made. We're not new to the scaffolding business, we've been making specialized scaffolding products since 1976. Our claim to fame is the safety of our products – zero collapses since day one.