The Ouachita (Pronounced Wash-i-tah) Parish School System in Louisiana uses their Light Bulb Scaffold™ System to change bulbs in auditoriums, gyms, and parking lots.
About a third of the bulbs in this 8-year-old auditorium were out, so the maintenance crew simply changed them all out. Good bulbs can be re-used in easy-to-reach fixtures.
Fits through 3 ft Standard Doors
Workers brought the Light Bulb Scaffold™ System to the school in a utility trailer. The racks rolled through the front door and down to the front of the auditorium.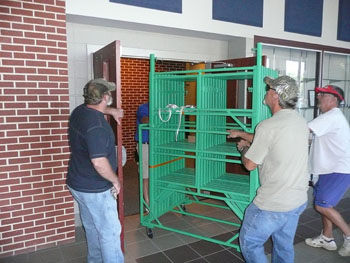 Auditorium Light Bulb Changing System
The first step was to change the three bulbs in front of the stage. The base unit was initially assembled high enough to clear the rows of seats when they changed the rest of the bulbs.
Notice that there is still plenty of vertical adjustment left in the legs. If the lights had been close to the stage, they could have rested two legs on the stage and two on the floor.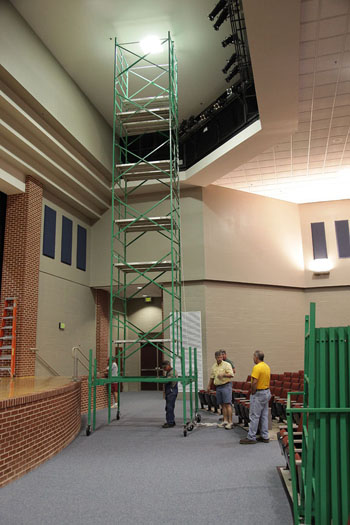 Auditorium Light Bulb Changing System
Light Bulb Scaffold™ is rolling scaffolding! The main support for the tower is always the four outer corner legs. However, when no one is on the tower, you can change over to the four inner legs that are 4 feet apart and roll the tower up the aisle. Then you transition back to the outer corners and roll side-to-side down the rows to change the other bulbs.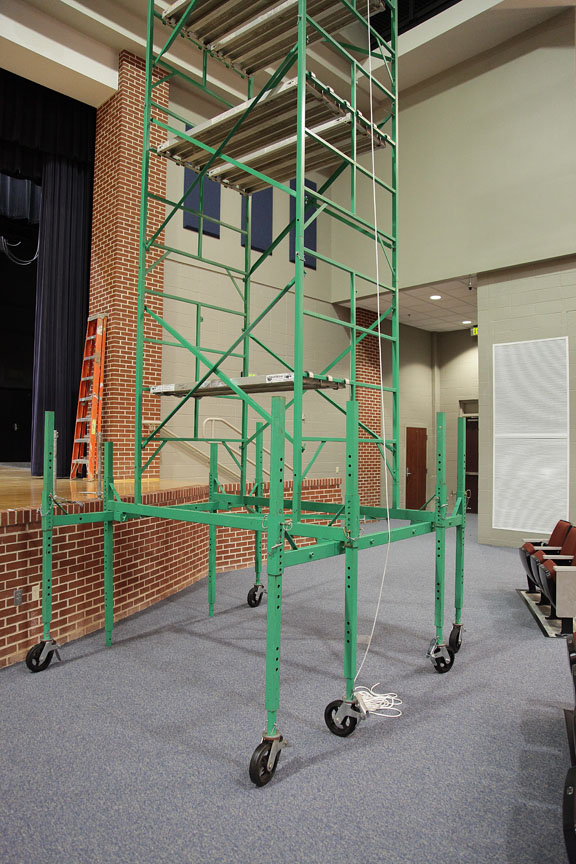 Best Auditorium Scaffolding
Tight Lines Electric out of San Clemente, CA uses the Light Bulb Scaffold™ System to change bulbs and repair fixtures in an auditorium.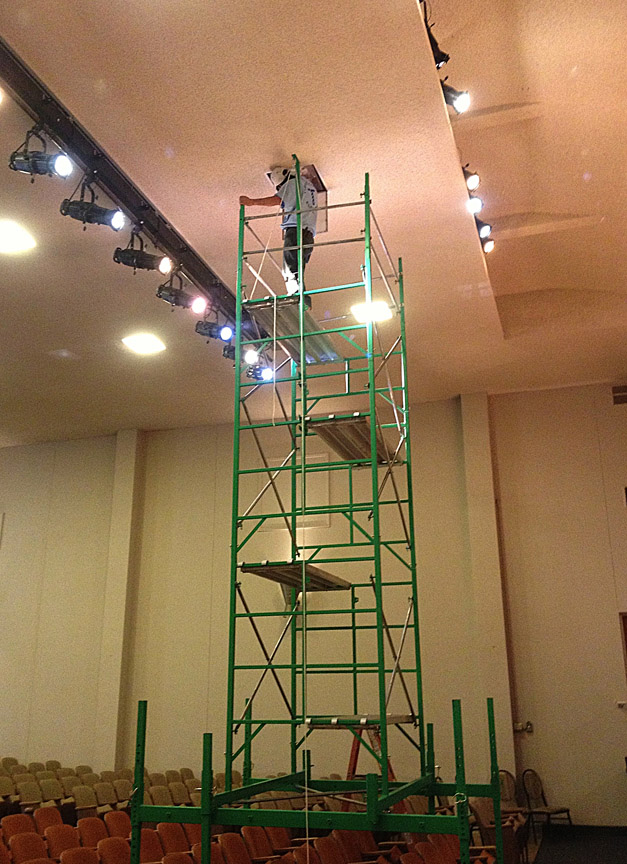 Download the Assembly and Use Manual here.
Check out pricing by clicking here.
Download a 2-pg informational flyer by clicking here.
BUY NOW! Call 800-845-0845